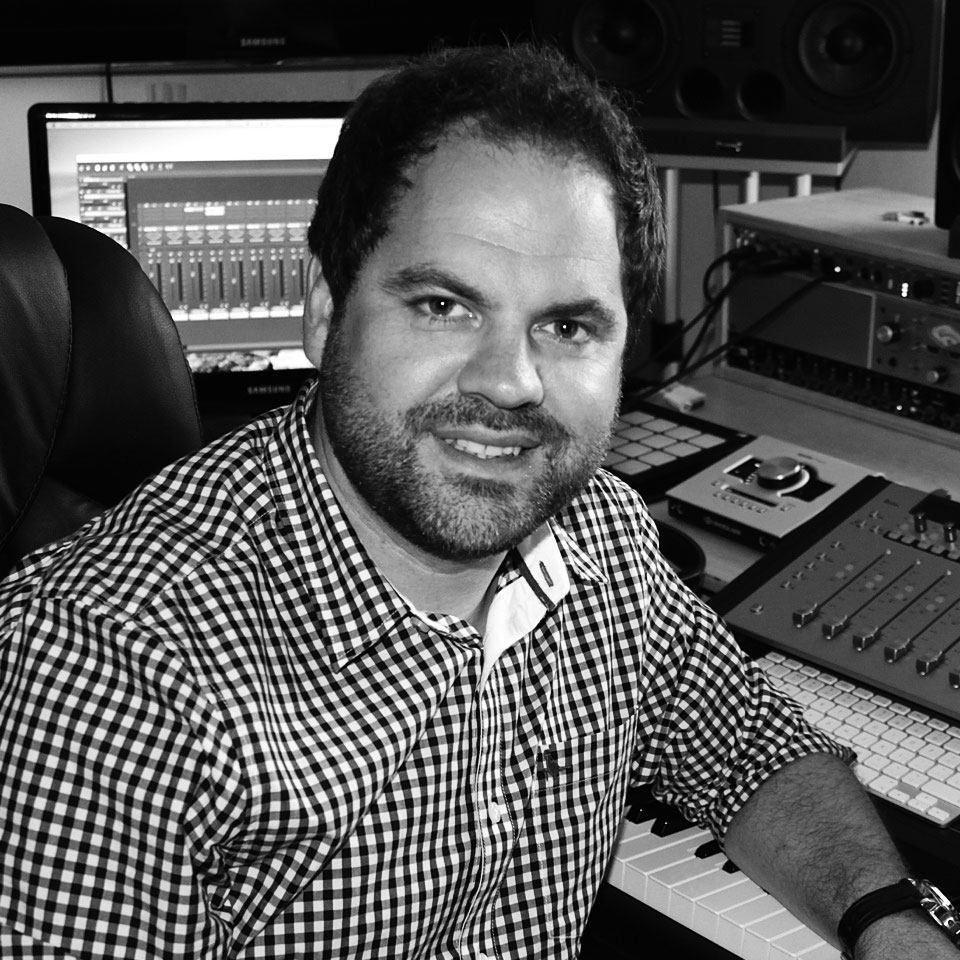 Glyn M. Owen
Raised in Worcestershire, Glyn M Owen was well-versed in music from a young age. Singing in church choirs and teaching himself to play keyboard at the age of 9 (a good foundation for any future composer). He went on to learn multiple instruments, being classically trained on clarinet and double bass.
After gaining a first class degree in music from Bath Spa University, Glyn was awarded a bursary from EMI's Music Sound Foundation to further his education. He went on to study for his Masters at the Royal College of Music in London, where he was tutored in Film Composition by legendary composer, conductor Joseph Horovitz.
Early on in his professional career Glyn wrote and produced the full theme and music package for Sky television in Italy. A huge opportunity which he would build on, later composing music idents for other television networks in Europe including Discovery, ITV & ITV3 and many more.
Today Glyn's works with big names including Microsoft recently scoring music for a short film about the Seeing AI App. This film was shown at the Microsoft Build Keynote 2016 and introduced by CEO Satya Nadella.?
The vast majority of Glyn's work over the past 10 years has been in advertising including huge names such as Adidas, Audi, Braun, Disney, Mercedes, and T-Mobile. He has won numerous awards including Cannes Lions Gold for his work on Olympus camera's Distorted Dogs commercials, and a Cannes Cyber Silver Lions for Volvo's The Hunt commercials in partnership with the film series The Pirates of the Caribbean.
In 2010-2011 Glyn won the pitch to compose for Reebok's Zigtech global campaign beating a sync submission from rapper Jay Z. The advert featuring famous sportsmen from all around the world, including Lewis Hamilton.
In 2014, he composed music for Adidas and Nike World cup commercials featuring members of the German and Brazilian national teams. Also check out the video for the Venezuelan brand Pampero Rum, an interesting brief for Glyn, to score the music and sound design to live action stunt actors bareback riding through the streets of Argentina at night. Plus the launch commercial for the Ferrari F12 Berlinetta and the short animated film Ninja Scroll directed by Gary Shore.
Glyn's diverse range of writing styles has meant that much of his production music has featured in many TV shows and films including Come Dine with Me, The One Show, UEFA Champions League and the Jake Gyllenhaal film Nightcrawler.
Following on from the success of his first de Wolfe albums Eclectic Folkestra 1, Electic Folkestra 2 featured the track Jumping Jim used for Dettol's Power & Pure campaign and CBeebies' On The Go. These particular albums have allowed Glyn to create an organic style featuring live folk instruments blended seamlessly with samples and fx.Contrast that with It's a kids world featuring the vocal talents of Glyn's entire family and his most recent album Minimalist Soundscapes from which the track Life's Reasons was used by the BBC for their Riba Sterling Prize Award film (below) and you can see why Glyn loves the opportunity to write for de Wolfe.
Working from his studio on a farm near Canterbury and surrounded by children, dogs and chickens, Glyn is currently writing and recording new tracks for Folkestra 3, expanding stylistically on the original albums and hoping to feature his ever-increasing collection of vintage instruments including a Hammond B3, Fender Rhodes, D6 Hohner Clavinet and Mellotron.