Unleashing Witchfinder General
After more than forty years in our vaults, the soundtrack to this horror cult classic is now available for the very first time

To construct a score equal to the visual richness of his film, Michael Reeves approached his long-term collaborator Paul Ferris, composer of the music for both 'The Sorcerers' and his earlier horror film 'Revenge of the Blood Beast' (La Sorella di Satana).
Ferris, who was probably best known at that time for his pop songs, deliberately aimed for a lush romantic score to underpin both the stunning visuals and the extreme violence. Ferris was left largely to his own devices; Reeves gave him a general outline of what he wanted then trusted the composer to get on with it and, enjoying this freedom, Ferris fashioned what was undoubtedly the most memorable of his many soundtracks.
So memorable was this music that Ferris approached de Wolfe and asked them if they might publish the film score, which they did, paying him for the publishing and recording thereby taking ownership of the master rights. In addition, de Wolfe decided that the best way to earn extra income with these recordings was to issue the tracks on one of their library albums attributed to the 'London Studio Orchestra'. 'Strange Location' was the cryptic name given to this much-coveted LP which was coupled with another classic Tigon exploitation OST, the H.P. Lovecraft-inspired horror movie 'The Curse of the Crimson Altar' composed this time by arranger Peter Knight and starring the mighty duo of Boris Karloff and Christopher Lee. The result was a huge success, both critically and financially, with dozens of editors and music supervisors utilising the unforgettable cues from Ferris's score as the background to countless other films and TV programmes.
In later interviews, the composer freely admitted his inspiration for the tender theme was the English folk song 'Greensleeves' - at least in terms of the shared folk memory that tune evokes in audiences, a comfortably familiar sense of Medieval England. In truth Ferris' score only vaguely resembles 'Greensleeves' but he was so determined to evoke this sense of days of yore that he originally proposed using traditional Elizabethan instruments, a move vetoed outright by Tigon executives, leaving Ferris with a more contemporary selection of strings.
The composer also found himself at odds with Tenser when he refused to sanction additional funds for a lavish score. Having booked a 55-piece orchestra into Olympic Sound Studios in London in the winter of 1968, Ferris had no choice but to pay a large portion of their wages from his own money! It was only after seeing and hearing the final film that Tenser relented and reimbursed Ferris his costs.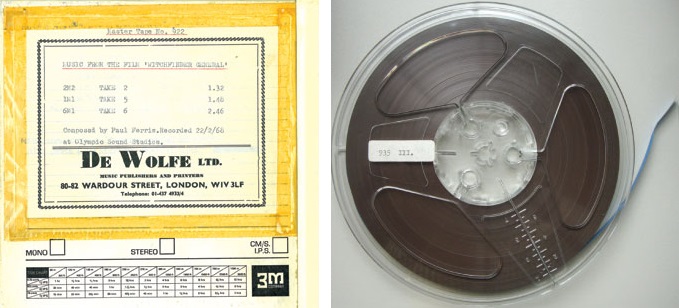 AIP proved harder to convince and for the American print dispensed Ferris' score in favour of synthesised music of their own, much to the composer's chagrin. For Ferris, 'Witchfinder General' achieved a career high and he deserves the recognition he is now receiving for crafting a major component in the film's success. He continued to work in films for a number of years including two more for Tenser, 'The Blood Beast Terror' and 'The Creeping Flesh' without quite reaching the same heights. His last score was for the Tyburn thriller 'Persecution' in 1975. He died in 1995 aged 54 after a long battle with Huntington's Chorea. (Incidentally for the eagle-eyed viewer, Ferris can be glimpsed in the film as a distraught husband billed as 'Morris Jar' an in-joke on the Englishman's favourite film composer, Maurice Jarre.)
 
John Hamilton is the author of Beasts in the Cellar: The Exploitation Film Career of Tony Tenser.

Vincent Price as the infamous Matthew Hopkins