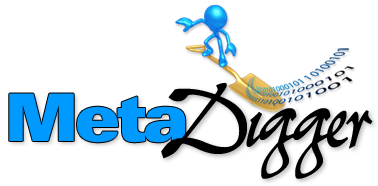 MetaDigger is an easy to use software program designed to help you display, search and export metadata details from broadcast wav and mp3 sound effects audio files. 

This software, available exclusively from Sound Ideas, is available in 2 versions: 

MetaDigger for PC: 
- works in the Windows XP & XP Pro, Windows Vista and Windows 7 operating systems 

MetaDigger for Mac: 
- works with the Mac OS 10.5 (Leopard) operating system and higher. 

Here's just a sample of what you can do with MetaDigger: 
Open & display metadata embedded in any set of digital broadcast wav or mp3 files, including the Sound Ideas Ultimate SFX Collection
Search embedded metadata in broadcast wav or mp3 files to find the audio files required for a production
Listen to any wav or mp3 file by using the audition feature
Create custom work folders or projects from search results to work with permanent subsets of a digital audio collection
Export and import metadata information from your databases
Edit database records to save additional search keywords, notes and ratings for digital audio files
All of these features (and a few more!) are part of MetaDigger. It's easy to install and use .... and best of all .... it's available as a FREE download right here!
Warranty Disclaimer:
By using this software, you agree that you will not hold de Wolfe, Sound Ideas or its Distributors responsible in any way. Using this software means that you have understood and agreed to all the terms and conditions of this disclaimer. De Wolfe does not take any responsibility and is not liable for any damage caused through the use of this software, be it indirect, special, incidental or consequential damage, including damage for loss of business, loss of profits, interruption or the like.
This software is provided on an "as is" basis, without warranty of any kind. The user takes full responsibility for its fitness for use in their application.